Description
The TCI6630K2L Communications Infrastructure KeyStone SoC is a member of the C66x family based on TI's new KeyStone II Multicore SoC Architecture and is a low-power baseband solution with integrated digital front end (DFE) that meets the more stringent power, size, and cost requirements of small cell wireless base stations. In enterprise and pico base stations, the device's ARM and DSP cores deliver exceptional processing power on platforms for developing all wireless standards including WCDMA/HSPA/HSPA+, TD-SCDMA, GSM, TDD-LTE, FDD-LTE, and WiMAX.
TI's KeyStone II Architecture provides a programmable platform integrating various subsystems (ARM CorePac, C66x CorePacs, IP network, radio layers 1, 2, and 3, and transport processing) and uses a queue-based communication system that allows the SoC resources to operate efficiently and seamlessly. This unique SoC architecture also includes a TeraNet switch that enables the wide mix of system elements, from programmable cores to dedicated coprocessors and high-speed IO, to each operate at maximum efficiency with no blocking or stalling.
The addition of the ARM CorePac in the TCI6630 enables the ability for layer 2 and layer 3 processing on-chip.
Operations such as Traffic Control, Local O&M, NBAP/FP termination, and SCTP processing can all be performed with the Cortex-A15 processor.
TI's new C66x core launches a new era of DSP technology by combining fixed-point and floating-point computational capability in the processor without sacrificing speed, size, or power consumption. The raw computational performance is an industry-leading 38.4 GMACS/core and 19.2 Gflops/core (@ 1.2 GHz operating frequency). The C66x is also 100% backward compatible with software for C64x+ devices. The C66x CorePac incorporates 90 new instructions targeted for floating point (FPi) and vector math oriented (VPi) processing. These enhancements yield tremendous performance improvements in multi-antenna 4.8G signal processing for algorithms like MIMO and beamforming.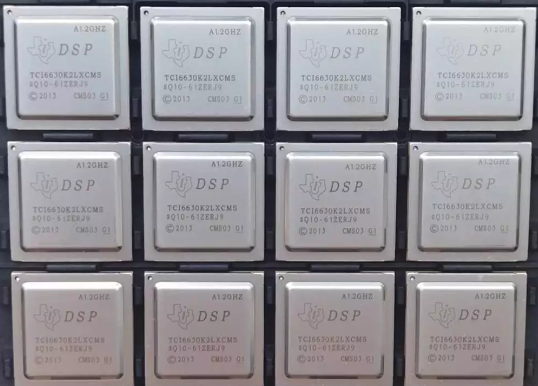 Applications
• Small Cell Base Station
• Remote Radio Head
• Radio Relay
• Software Defined Radio
Functional Block Diagram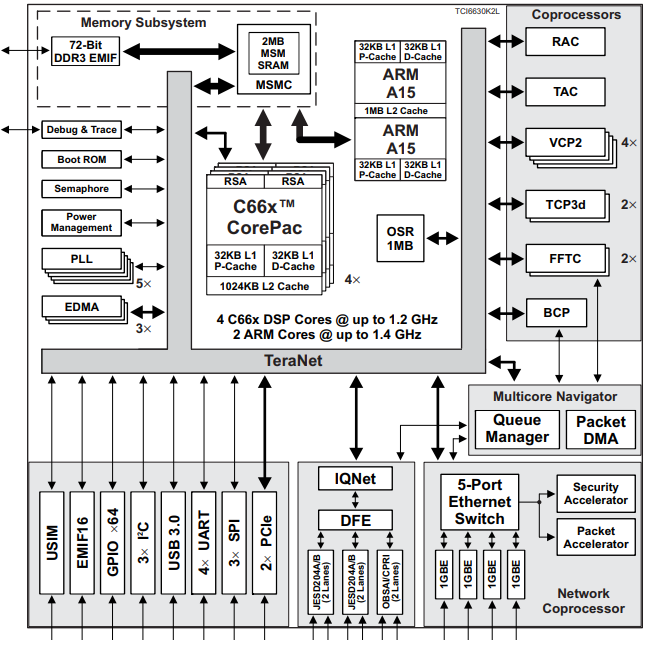 Features
• TMS320C66x™ DSP Core Subsystems (C66x
CorePacs), Each With
– 1.0 GHz or 1.2 GHz C66x Fixed/Floating-Point DSP Core
› 38.4 GMacs/Core for Fixed Point @ 1.2 GHz
› 19.2 GFlops/Core for Floating Point @ 1.2 GHz
– Memory
› 32K Byte L1P Per CorePac
› 32K Byte L1D Per CorePac
› 1024K Byte Local L2 Per CorePac
• ARM CorePac
– Two ARM® Cortex™-A15 MPCore™ Processors at Up To 1.4 GHz
– 1MB L2 Cache Memory Shared by Two ARM Cores
– Full Implementation of ARMv7-A Architecture Instruction Set
– 32KB L1 Instruction and Data Caches per Core
– AMBA 4.0 AXI Coherency Extension (ACE) Master Port, Connected to MSMC for Low Latency Access to Shared MSMC SRAM
• Multicore Shared Memory Controller (MSMC)
– 2 MB MSM SRAM Memory Shared by Four DSP CorePacs and One ARM CorePac
– Memory Protection Unit for Both MSM SRAM and DDR3_EMIF
• On-chip Standalone RAM (OSR) - 1MB On-Chip SRAM for Additional Shared Memory
• Hardware Coprocessors
– Two Turbo Decoders
› Supports WCDMA/HSPA/HSPA+/TD-SCDMA, LTE, LTE-A and WiMAX
› Supports Up To 282 Mbps for LTE at Block Size 6144, 8 Iterations and Up To 206 Mbps for WCDMA at Block Size 5114, 8 Iterations
› Low DSP Overhead – HW Interleaver Table Generation and CRC Check
– Four Viterbi Decoders
› Supports Up To 50 Mbps (Length 9, Rate 1/3, Block Size 2500)
– One WCDMA Receive Acceleration Coprocessors
› Supports Up To 8192 Correlators
– WCDMA Transmit Acceleration Coprocessor
› Supports Up To 2304 Spreaders
– Two Fast Fourier Transform Coprocessors
› Support Up To 2400 Mscps at FFT Size 1024
– Bit Rate Coprocessor
› WCDMA/HSPA+, TD-SCDMA, LTE, LTE-A and WiMAX Uplink and Downlink Bit Processing
› Includes Encoding, Rate Matching/Dematching, Segmentation, Multiplexing, and More
› Supports Up To DL 1525 Mbps and UL 1030 Mbsp for LTE and DL 784 Mbps and UL 216 Mbsp for WCDMA/TD-SCDMA
• Multicore Navigator
– 8k Multi-Purpose Hardware Queues with Queue Manager
– Packet-Based DMA for Zero-Overhead Transfers
• Network Coprocessor
– Packet Accelerator Enables Support for
› Transport Plane IPsec, GTP-U, SCTP, PDCP
› L2 User Plane PDCP (RoHC, Air Ciphering)
› 1 Gbps Wire Speed at 1.5 MPackets per Second
– Security Accelerator Engine Enables Support for
› IPSec, SRTP, 3GPP and WiMAX Air Interface, and SSL/TLS Security
› ECB, CBC, CTR, F8, F9, A5/3, CCM, GCM, HMAC, CMAC, GMAC, AES, DES, 3DES, Kasumi, SNOW 3G, SHA-1, SHA-2 (256-bit Hash), MD5, ZUC, ZUC-MAC
› Up To 6.4 Gbps IPSec and 3 Gbps Air Ciphering
– Ethernet Subsystem
› Four SGMII Port Switch
• Eight Rake/Search Accelerators (RSA) for
– Chip Rate Processing for WCDMA Rel'99, HSDPA, and HSDPA+
– Reed-Muller Decoding
• Peripherals
– Digital Front End (DFE) Subsystem
› Support up to Four Lane JESD204A/B (7.37 Gbps Line Rate Max.) Interface to Multiple Data Converters.
› Integration of Digital Down/Up-Conversion (DDC/DUC), Crest Factor Reduction (CFR), and Digital Pre-Distortion (DPD) Modules
– IQNet Subsystem
› Transporting baseband antenna streams over two-lane SerDes-based Antenna Interface Link (AIL)
› Transporting baseband antenna streams to an integrated Digital Front End (DFE)
› Operating at Up To 9.83 Gbps
› Compliant with OBSAI RP3 and CPRI Standards for 3G / 4G (WCDMA, LTE TDD, LTE FDD, TD-SCDMA, and WiMAX)
– Two One-Lane PCIe Gen2 Interfaces
› Supports Up To 5 GBaud
– Three Enhanced Direct Memory Access (EDMA) Controllers
– 72-Bit DDR3 Interface, Speeds Up To 1600 MHz
– EMIF16 Interface
– USB 3.0 Interface
– USIM Interface
– Four UART Interfaces
– Three I2
C Interfaces
– 64 GPIO Pins
– Three SPI Interfaces
– Semaphore Module
– Fourteen 64-Bit Timers
• Commercial Case Temperature:
– 0°C to 100°C
• Extended Case Temperature:
– - 40°C to 100°C
Product Parameter
| | | | |
| --- | --- | --- | --- |
| Manufacturer | Texas | Manufacturer's Part | TCI6630K2LCMSA2 |
| Categories | Optoelectronics | Sub-Categories | LED Indication - Discrete |
| Packaging | Tape & Reel (TR) | Package / Case | FCBGA |
Manufacturer
Texas Instruments is a semiconductor multinational company in Texas, USA. It is famous for developing, manufacturing, and selling semiconductor and computer technology. It is mainly engaged in innovative digital signal processing and analog circuits. In addition to the semiconductor business, it also provides solutions including sensing and control, educational products and digital light source processing. Texas Instruments (TI) is headquartered in Dallas, Texas, USA, and has manufacturing, design or sales organizations in more than 25 countries.